Cubix, a brand under Philippine's tech giant that is Cherry Mobile, just released a hot new device that looks awesome on paper.
The Lazada-exclusive brand launched the Cubix Cube 3, the latest addition to its flagship Cube line-up. The sub-Php5,000 smartphone market is really saturated at this time, which makes me wonder what Cubix did to make the Cube 3 stand out with everyone else. Let's go and figure it out.
Cherry Mobile Cubix Cube 3 specs
Android 5.1 Lollipop
Dual-SIM, Dual Standby
5.5-inch HD IPS Display, 1280 x 720 resolution
1.3GHz 64-bit octa-core processor
2GB of RAM
16GB of expandable storage
16-megapixel rear camera
8-megapixel front camera
WiFi, WiFi hotspot
Bluetooth
3G, LTE
GPS, A-GPS
2700mAh battery
Hardware and Design
The Cubix Cube 3 is available in four different colors; White, Dark Blue, the ever-so-popular Rose Gold, and the one we have here – Champagne Gold. And I must say, the color variants gave the device a premium title despite the cheap price tag. The shiny, metallic gold paint at the front edges of the device screams luxury. Unfortunately, the Cube 3 is actually entirely made with polycarbonate plastic, but the presentation deceived us in a good way.
I liked the design accents at the back cover. These embossed tiny diamond shapes look simple and no-frills which made it really elegant. The minimalistic look of the Cubix logo also contributed to the overall look of it.
What we have here is a 5.5-inch handset, which sends the Cubix Cube 3 to the phablet space. The device feels large in the hands and quite hard to grasp, especially for people with small hands. There's also some noticeable heft to it, but nothing to be really worried about. At least its rounded corners make up for it, so it's still a little plus on the ergonomics side.
Taking a tour, we do have the 5.5″ IPS display in front together with the 8-megapixel front-facing camera, and the earpiece with the LED notification indicator behind it. No physical buttons here, although I kinda wish that Cubix had the essential toggles at the empty space at the lip of the device, rather than having it on-screen – or even use it as extra screen estate. Such precious space has been wasted.

Left side is clean, the right side has the volume controls and the lock/power switch. These buttons feel unsurprisingly flimsy, but still tactile enough.
The top only has the 3.5mm headphone jack, at the bottom we have the built-in microphone and the microUSB port.
At the back, we have the 16-megapixel primary camera with LED flash and an inferior and disappointing loudspeaker. The volume is too low on this thing, watching a YouTube video or listening to music without an external output would be really difficult.
Popping out the back panel reveals the two SIM slots, and a microSD card slot, that can support up to 32GB of storage. This also reveals how concealed the battery is. I still have no idea why Cherry Mobile chose that route; considering that the back panel is detachable. We've also seen this weird implementation on some Asus devices.
Display
Cubix towed in a 5.5″ HD IPS display for this bad boy, with a 1280 x 720 resolution that has 267 pixels-per-inch.
Not only that it looks good on paper, but the display of the Cubix Cube 3 can really deliver. The panel is bright, with punchy colors, and awesome contrast. Sharpness is also on point, but still no match with the high-end ones. The panel also beams an ample amount of backlighting, which makes outdoor visibility fairly easy. Viewing angles is also a killer, the screen itself really looks like it has been laminated with the glass above it.
The large and sharp display made gaming more immersive, and watching movies as well as reading texts is a pleasure in the eyes.
Performance
The Cubix Cube 3 packs a substantial amount of power inside — the best you can have at this price range. We have a MediaTek MT6753 chipset inside, which has an octa-core Cortex-A53 1GHz processor, partnered with 2GB of RAM and a Mali-T720 GPU.
Hands down, this thing delivers top-notch performance. Sure it ain't the best in the world (of course), but for what you're paying, it'll really satisfy. Big titles like Mortal Kombat X and Electronic Art's UFC delivers superb gaming experience. Also, a processor-hungry game called Roller Coaster Tycoon, which I saw struggle on some devices that I have reviewed before, ran seamlessly on this device. The device also manages to control its thermals very well, with no noticeable overheating during my tests.
Browsing through the home screen, social media apps, and other light activities are also flawless. Plus, with the help of its well-utilized 2GB of RAM, you can switch between different apps without breaking a sweat.
Check out these benchmark test results:
Software
The Cubix Cube 3 runs on a fairly recent Android 5.1 Lollipop, a standard to most devices that aren't that ambitious enough to house the Marshmallow version. Cherry Mobile also didn't waste any effort on skinning the interface, thus, leaving the clean and straightforward Android look.
The company also didn't bother on installing tons of bloatware and useless applications on the Cube 3 — like what others always do. Although we still see some native applications that are tagged out of the box, but all of them are easily uninstallable.
Cherry Mobile made the interface so simple that they also omitted some quirks that we loved in other devices. For one, the off-screen are nowhere to be found. Which means, you can't just simply double-tap the display to wake the device, or draw some weird shapes to quickly launch an application — all can be done while the screen is off.
Nonetheless, there's nothing to hate about the device's interface — nor something to really love about it.
Take a look at some of the interface:
Connectivity
The Cubix Cube 3 is pretty equipped in this department. We got a WiFi 802.11 b/g/n, Bluetooth 4.0, and of course, 4G LTE connectivity.
I was able to get stay connected with our home network with the reliable WiFi antenna. Playing media with a Bluetooth speaker was also seamless, with no cuts or distortion. The LTE connection was also fast, but it will really depend on our internet service provider.
Camera
We got a 16-megapixel primary camera and an 8-megapixel in front, a pretty astonishing number on such cheap device.

The camera at the back can definitely shoot impressive photos, but not 16MP-impressive. I have seen tons of 8MP and 12MP that performed better.
Images have good color reproduction and contrast is above average, but the sharpness is a bit questionable. Details appear to be soft and plain — which is probably the software's fault rather than the sensor itself. It also struggles to figure the correct white balance. On a good note, the depth of field is pretty impressive. However, photos taken by the Cubix Cube 3 on low-light are really disappointing.
Those impressions are also carried out on the front-facing shooter. Everything looks okay, but details are really on the soft side. But nonetheless, you can still take selfies with good quality and worth sharing online.
The Cubix Cube 3 can also shoot 1080p videos, with the quality same as with the stills.
Battery
I know that a lot of people are worried about the device's non-removable 2700mAh battery, and I can't blame them. The ability to easily swap out the module as it runs out of juice is pretty convenient; or to easily replace it when it starts to crap out, which will inevitably happen over time.
The Cube 3 can last you for about 4-hours of screen-on time, that's hours of uninterrupted gaming, watching videos and other heavy activity. While light to moderate usage can last you a good 8 to 10 hours, so you don't have to worry of the Cube 3 being dead before you reach home.
Verdict
So, there you have it — The Cubix Cube 3 in all its glory. It's pretty obvious, this smartphone doesn't possess anything that WOW-ed me, but still, it's still hard not to recommend this to anyone who's looking for a device under the prominent Php5,000-and-below budget.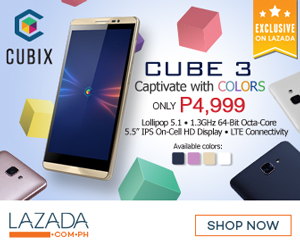 The Cubix Cube 3 doesn't have any quirks up its sleeves, but I still enjoyed my time with it. Rather than wasting the few pennies spent on non-sense tricks, Cherry Mobile focused on bolstering the essential parts of the device.
Buy the Cubix Cube 3 at Lazada! Cash on Delivery Available!
The display is large and stunning for the price, the processor is powerful enough to handle high-end game titles and day-to-day tasks, a clean and dated Android version, and of course, 4G LTE connectivity. In my opinion, these parts are the important features of a good smartphone.
For only Php4,999, it's definitely a great deal. The Cubix Cube 3 is exclusively available online at Lazada Philippines.
Video Review of Cubix Cube 3
Pros
Fine-looking design
Good display
Capable processor
4G LTE
Cons
Crappy loudspeaker
Average camera
Non-removable battery