Huawei just unveiled its latest foldable phone last night — the Huawei Mate Xs.
There are a lot of reasons to get excited about this device. Thankfully, Huawei Philippines was able to show us a sample unit during its livestream viewing event in the country. So, we're bringing you our Huawei Mate Xs hands-on experience to share our initial thoughts about this futuristic device.
Right off the bat, you can instantly tell that this smartphone has the same body as the Mate X from last year, as suggested by the unimaginable Mate 'Xs' branding.
Huawei Mate Xs still has a large, tablet-like 8-inch OLED screen with a resolution of 2480 x 2200 pixels. It uses Huawei's Falcon Wing design. Unlike the Galaxy Fold, the Huawei Mate Xs folds outwards, just like how a bird flaps its wings.
I must say, folding the device for the first time gives a rather cringy feeling. We're still not used in seeing screens being bent, despite already having it in other handsets like the Galaxy Z Flip. A technology that we used to only see in CES and other tech conventions.
Durability shouldn't be a big issue, at least on paper. Huawei claims that they used a 'Double Layer Optical Polyimide' on top of the flexible display. That is 80% stronger than a single layer and 3x more expensive than gold.
Creases are still visible, but not too distracting. We expect this issue to be resolved, as this technology develops over time. And to be honest, you can barely tell it's there.
The hinge on the Huawei Mate Xs is pretty advanced, too. It's made of Zirconium-based liquid metal, which is 30% harder than titanium alloy as per Huawei.
There's also a latch on the back that snaps it in place when you fold it in. A small button releases the latch and springs the display so you can fully open it. I must say, the hinge provides a satisfying click once the device is fully opened.
The design of the Huawei Mate Xs is miles ahead of the Galaxy Fold. The 11mm thin profile remains consistent, unfolded or not — which is incredibly impressive.
The multiple display setup is more streamlined. Since it folds outwards, the 8-inch can double as the 6.6-inch screen on the front, and a 6.38-inch secondary display on the back.
The extra screen on the rear panel also allows you to use the rear cameras for selfies. Unlike the Galaxy Fold, there's no need to add extra cameras to complement the inside and outside displays.
Speaking of which, the Huawei Mate Xs features some flagship-level camera sensors. There's the 40-megapixel SuperSensing camera, 8-megapixel telephoto, 16-megapixel ultra-wide, and ToF cameras. Imagine using those advanced cameras for taking selfies.
Are you tired of other people taking bad-angle pictures of you? Thanks to the secondary display, you can enable Mirror Shooting, so you can see if the photographer gets the OOTD shot you desire.
Most of those features were already present on the original Mate X. What's really new here is the hardware inside. More specifically, the new Kirin 990 5G processor. The same chipset found on the Mate 30 Pro 5G.
We weren't able to install apps and benchmark tools in the sample unit that we got. But, being one of the most powerful chipsets in the market today, we expect it to have blazing fast speeds.
Huawei Mate Xs also features a large 4,500mAh battery. This could easily last you for an entire day, unless you opt to use it in tablet mode all the time.
Don't worry, though. You can easily fill up its battery thanks to its fast 55W SuperCharge technology.
In terms of cameras, we weren't able to test it to its fullest capabilities but it performs really well like any other flagship Huawei smartphone.
Oh, and about Google Mobile Services. Well, the Huawei Mate Xs won't have it, just like Huawei's other recent releases — which is a real shame considering how cool the hardware is. Recently, Google even warned people in sideloading Google apps in Huawei devices.
On the upside, it looks like Huawei is really pushing to improve their App Gallery. For all we know, maybe the GMS snub is a blessing in disguise for Huawei. It will force them to improve HMS (Huawei Mobile Services) and create an ecosystem that will rival Apple's.
That's highly plausible since accessories like the FreeBuds 3, laptops like the MateBook X Pro 2020, and smartphones like the Mate Xs work seamlessly with each other. Integration is not as deep as macOS and iOS yet, but they will definitely get there in the future.
But whatever the case may be, there's one thing we're certain about: the Huawei Mate Xs is what a foldable smartphone should look like — if you can swallow the price to pay for being an early adopter.
The Huawei Mate Xs is priced at USD2,499 or approximately ~Php127,700 when converted to Philippine Peso. No information yet regarding the official pricing and availability in the Philippines. (Update 4/5/20: The Mate Xs has an official price of Php139,999 in the Philippines)
Let's just wait and see if the software gets sorted out, and if this ambitious design can truly stand the test of time… and everyday use.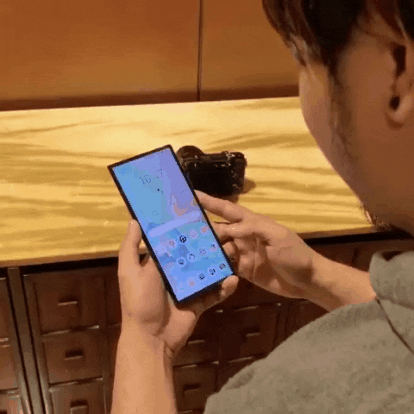 Huawei Mate Xs Specs
Android 10, EMUI 10
8.0-inch AMOLED display, 2480 x 2200 pixel resolution, ~414ppi (unfolded)
6.6-inch AMOLED display, 2480 x 1148 pixel resolution, ~414ppi (folded, front)
6.4-inch AMOLED display, 2480 x 892 pixel resolution, ~427ppi (folded, back)
2.86GHz Kirin 990 octa-core processor
8GB RAM
Mali-G76 MP16 GPU, GPU Turbo
256GB UFS internal storage
40-megapixel + 16-megapixel (ultra wide) + 8-megapixel (telephoto) + ToF depth sensor rear cameras
4G LTE, 5G
WiFi 802.11 a/b/g/n/ac, dual-band
Bluetooth 5.0
GPS, A-GPS
USB Type-C
4,500mAh battery, 55W Huawei SuperCharge